In this post you can get Thanthai Periyar History in Tamil PDF version at the end of page. It was written and published by Tamil Book Store. We glad to publish this book in PDF version for FREE.
Who is Periyar?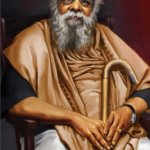 Popularly known as Thanthai Periyar, his real name is EV Ramasamy. He was a social reformer of the 20th century. He was a staunch opponent of the caste and untouchability policies prevailing in Tamil Nadu. Periyar was the one who taught to develop rationality to dispel the superstitions prevailing among the people. He started the self-esteem movement to break down the inequalities within the people. He was the voice of women's liberation. He raised questions about equal rights for women in society.
When was Periyar Born?
Periyar was born on September 17, 1879 in Erode district to Chinnath Thayammal and Venkatappa Nayak.
Ramasamy's Background
Ramasamy was born into a comfortable family and was born into the Nayakar caste which was considered to be the upper caste in the society. He later removed his caste name from his name. He spoke out against casteist oppression, untouchability, superstition, paranoia following the Varnasrama Dharma, and the reactionary attitude of treating women as inferior.
Click following link to download Periyar Quotes in high resolution images. Thanks to QuotesTamil.Net for the help of PDF version.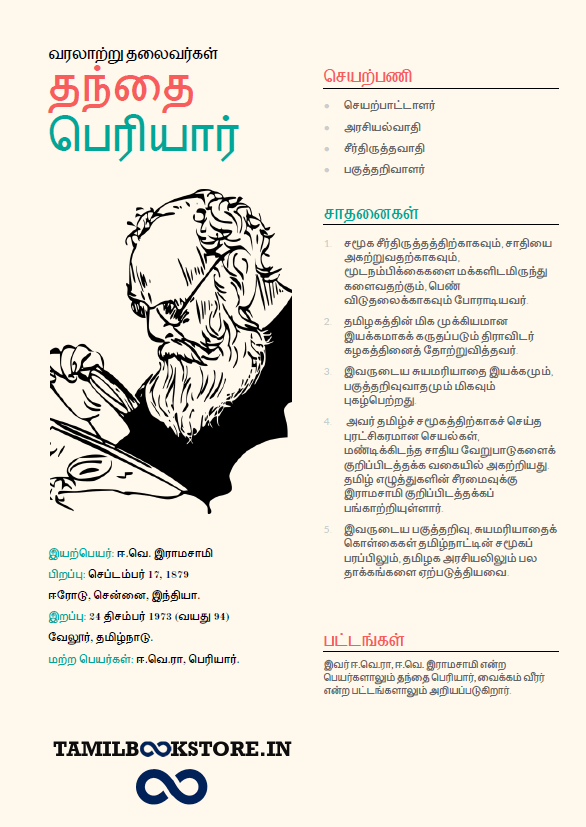 Atheist and Anti-caste
Ramasamy was a staunch atheist and anti-caste. He waged many struggles and campaigns to destroy the caste rooted in the Indian people and to oppose the superstitions perpetuated by religions. He has written a feminist book called Pen Ean Adimaiyanal. Periyar made equal rights for women one of his ideologies.
Influences
Ramasamy had many influences on the social structure of Tamil Nadu and the politics of Tamil Nadu with rationality and self-respect as his principles. He is affectionately known by the names Ramasamy and Thanthai Periyar, Vaikkom Veerar and E.VE.RA.
Nationalist Congress Party
Ramasamy quit his business in 1919 and joined the Nationalist Congress Party. He resigned from all the public relationship works he held before joining it. Not only did he relinquish the important post of Erode mayor he held, but he wholeheartedly dedicated himself to the Congress party. He did wear Gandhi's Khadar dress, but he also made others wear it, demanding the closure of thrift stores, and staging protests against merchants selling foreign textiles.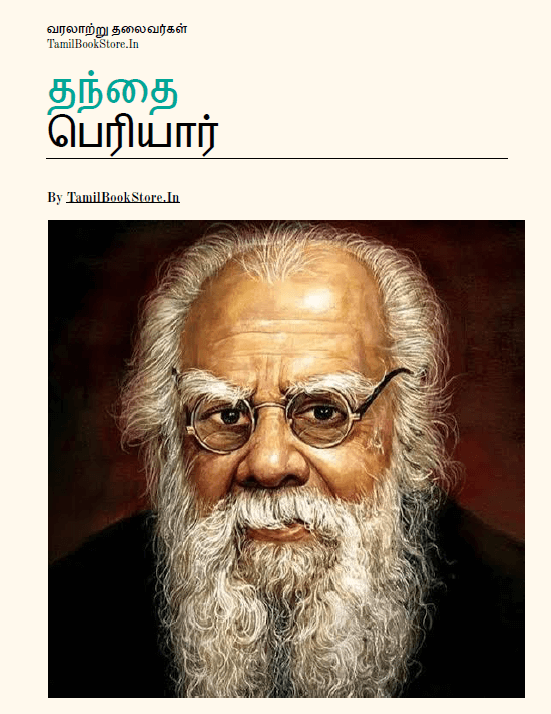 Thanthai Periyar History in Tamil PDF
| | |
| --- | --- |
| Writer : | Tamil Book Store |
| Language : | Tamil |
| Genre : | History / Non-fiction |
| Pages : | 15 Papers |
| Format : | eBook / ePub / Kindle epub |
| Rating by Category : | 4.1 |
Book Details
Periyar Book Content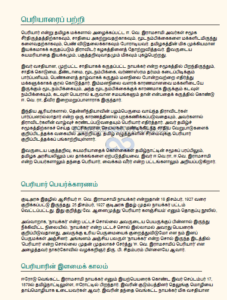 About
The reason for the name
Periyar's youth
Family
Atheist
In the Congress party
Vaikkom struggle
Self-esteem movement
Overseas tour
Anti-Hindi movement
As leader of the Justice Party
Dravida Kazhagam
The end times
Download Link
Conclusion
Hope you downloaded and read the Thanthai Periyar History PDF book from our site. Please leave a comment about your favourite historical leaders names.